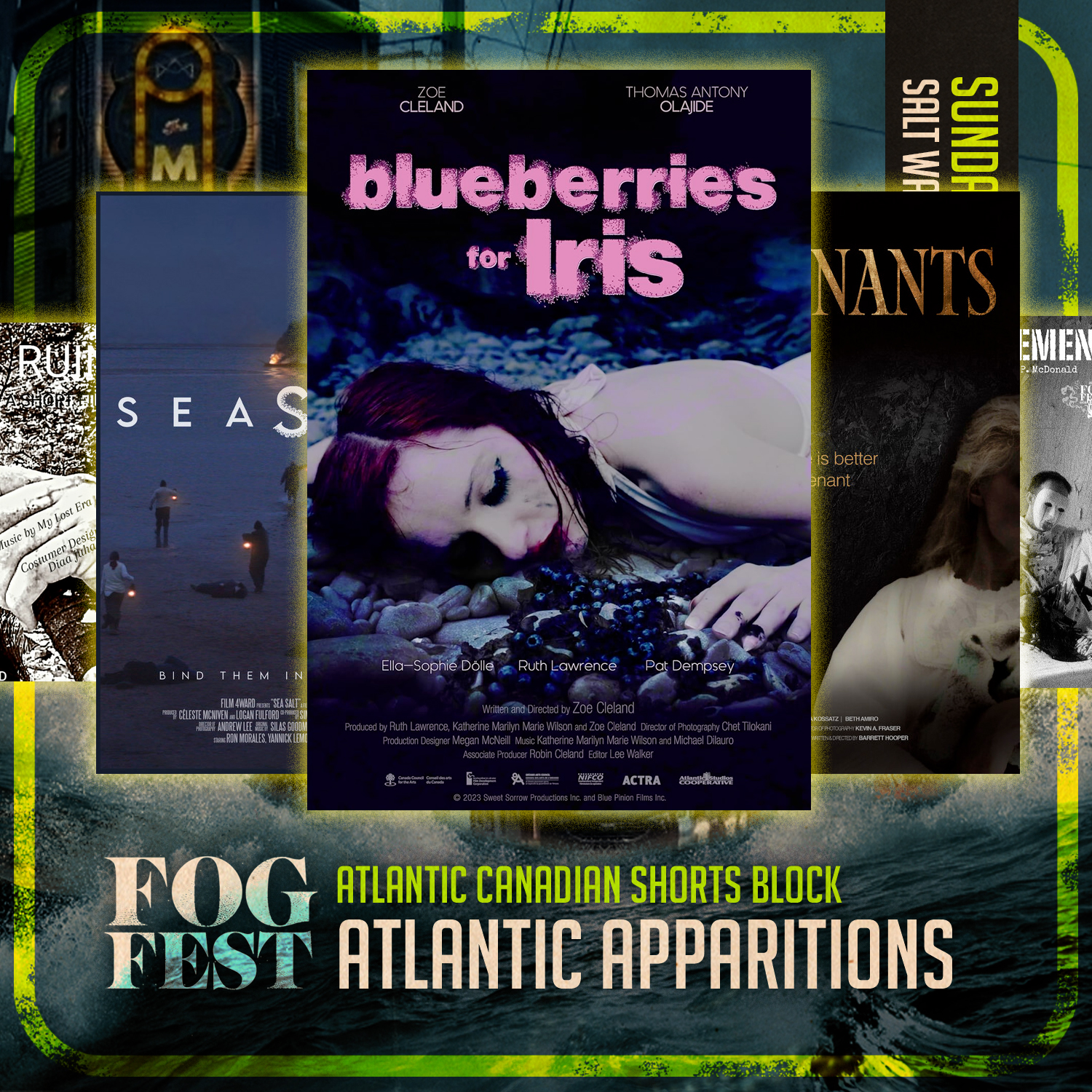 ATLANTIC APPARITIONS (Atlantic Canadian Short Film Block)
Date
Sun November 19, 2023
Show Time
THIS EVENT HAS EXPIRED
ATLANTIC APPARITIONS
Featuring the following short films:
Magia De Terra
An animated short made during Shan Leigh Pomeroy's two-week artist residency at Buinho Creative Hub in Messejana Portugal, Magia da Terra explores the specificity of place by revering the magical herbs, folk customs, animals, and other elements found throughout this area of the world.
Director: Shan Leigh Pomeroy
Writer: Shan Leigh Pomeroy
Producer: Shan Leigh Pomeroy
Running Time: 3 mins
Canada
English
Ms. Harvey
A young boy named Max tries to hide from his neighbour who seems to be chasing him.
Director: Brooklyn Valetta Cox
Writer: Brooklyn Valetta Cox
Producer: Brooklyn Valetta Cox
Running Time: 5 mins
Canada
English

Bad Carbs
After their teacher fails to show up for class, students go looking for her unaware of the predator that lurks.
Director: Michael Peers
Writer: Michael Peers
Producer: Patricia Andrews
Running Time: 5 mins
Canada
English
Lady at Number 16
When two sailors help a Lady in need enter her house, they return later to find out that their evening was not all it seemed. Based on "The Lady at Number 16" by Dale Jarvis.
Director: James Newhook
Writer: Michael Peers, Dale Jarvis
Producer: Peter Buckle, Keith Bonnell
Running Time: 9 mins
Canada
English
Overtide
After washing up on the shore of a deserted coast, Loomis reunites with Kanthus — an elemental figure from his past who gifted him eternal life when he was near death, and who now makes an offer that will send him truly into the unknown.
Director: Jordan Barnes-Crouse
Writer: Jordan Barnes-Crouse
Producer: Carolyn Williams
Running Time: 12 mins
Canada
English
Basement Ghosts
BASEMENT GHOSTS provides a chilling assessment of the major contributors to the recent growth of neo-fascist movements, and how young extremists can be turned away from a life of hatred in this 8mm homage to wartime propaganda videos.
Director: Ryan Patrick Mcdonald
Writer: Ryan Patrick Mcdonald
Producer: Ryan Patrick Mcdonald
Running Time: 5 mins
Canada
English
Ruin
A tragic mythic love story
Director: André Melanson
Writer: André Melanson
Running Time: 5 mins
Canada
English
Remnants
Set over a single weekend, Remnants is an intimate drama about a son struggling to connect with his widowed father, and a cruel horror in which ageing, illness and dementia are haunting them both.
Director: Barrett Hooper
Writer: Barrett Hooper
Producer: Kate Devlin
Running Time: 12 mins
Canada
English
Fairyland
While searching for her mother in the deep woods of 1950s Newfoundland, an isolated daughter comes across a girl straight out of the tales of dangerous fairy folklore.
Director: Brianna Russell
Writer: Brianna Russell
Producer: Shane Mills
Running Time: 6 mins
Canada
English
Sea Salt
Ben, an internet technician, travels to an eerie village far from civilization. When Ben's truck breaks down and he's forced to spend the night in the village. During the night, he witnesses the villagers standing in the ocean to greet a terrifying mythical sight…
Director: Logan Fulford
Writer: Logan Fulford
Producer: Logan Fulford
Running Time: 22 mins
Canada
English
If Not To Die
Phillip Early recounts the months spent investigating a cold case. A police interrogator presses him for answers while trying to decode the role of a retired detective/successful author in the mystery.
Director: Brad Gover
Writer: Francois Van Zyl
Producer: Mike Hickey, Kerry Gamberg
Running Time: 14 mins
Canada
English
Blueberries for Iris
A young woman struggling to process a traumatic event goes to visit her mother in a remote area of rural Newfoundland. One day while out blueberry picking, she becomes inexplicably lost in the company of an unknown man. As her reality gradually crumbles, elements of her psychology play out between her and the stranger, causing her to question his motives, as well as her own health and sanity.
Director: Zoe Cleland
Writer: Zoe Cleland
Producer: Ruth Lawrence, Katherine Marilyn Marie Wilson
Running Time: 22 mins
Canada
English
Visit us at Theatre Hill for food & drinks