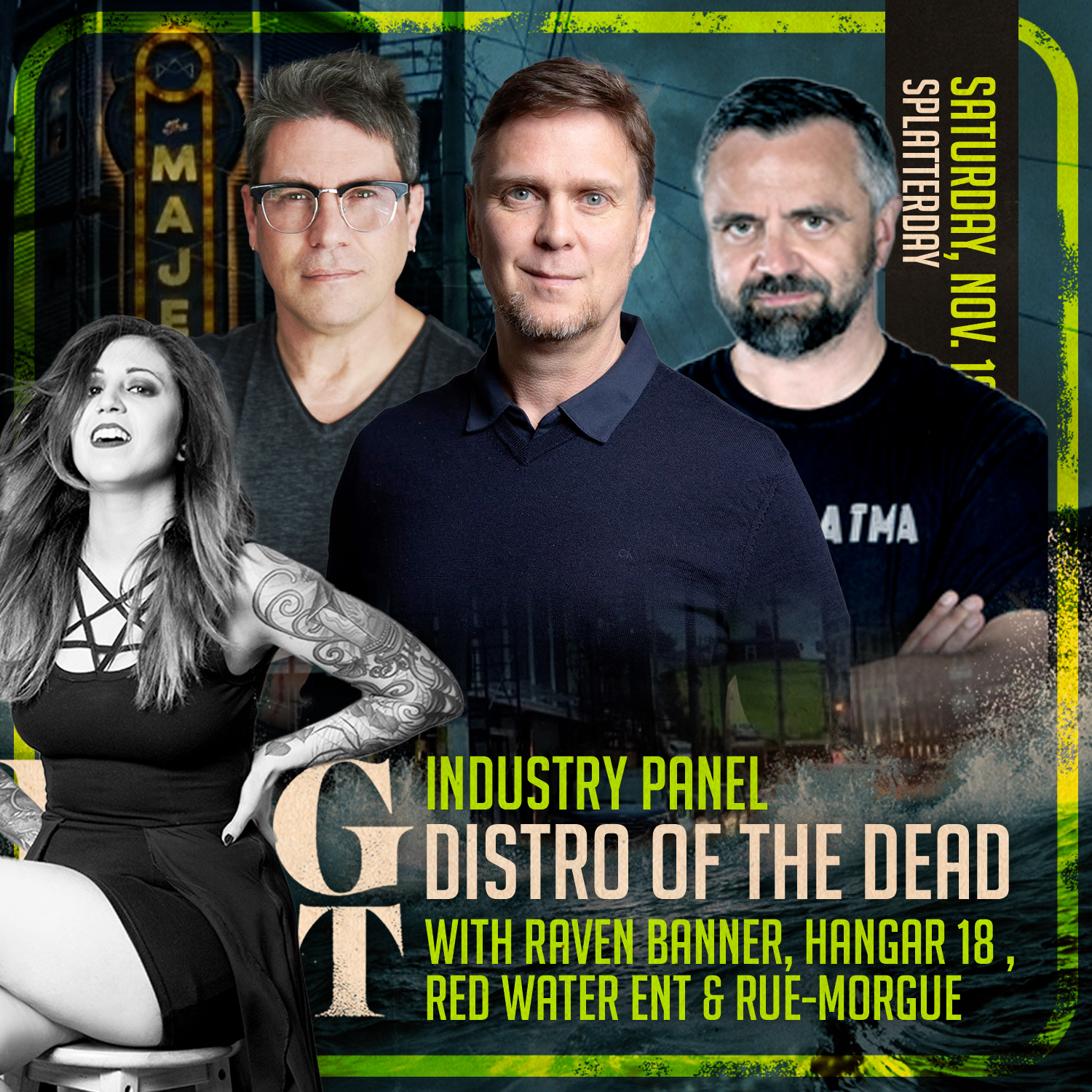 DISTRO OF THE DEAD
Date
Sat November 18, 2023
Show Time
THIS EVENT HAS EXPIRED
A special industry panel - DISTRO OF THE DEAD, Presented by PictureNL, with Canada's leading voices in genre distribution. Featuring Michael Paszt of Raven Banner, Pasha Patriki of Hangar 18, Avi Federgreen of IndieCan/Red Water Entertainment and moderated by Rue Morgue Magazine Executive Editor Andrea Subissati !
DISTRO OF THE DEAD - Presented by PictureNL
Horror is consistently one of the top performers at box-office, and our island is making waves as a genre gem. We've invited Canada's leading genre distributors to "clear the fog" on Canada's genre market and its distribution network. DISTRO OF THE DEAD is an excellent opportunity for local and visiting filmmakers and industry to gain key insights and connect. This event is free of charge with an RSVP emailed after checkout.
Featuring:
MICHAEL PASZT
Managing Partner, Raven Banner Entertainment / Partner, Hangar 18
Michael Paszt is one of the most respected names in the arena of independent film. A Managing Partner in Raven Banner Entertainment, Michael has focused on building a brand that represents unique genre driven films including The Autopsy of Jane Doe, Gaspar Noe's Climax, Tigers Are Not Afraid and the Oscar® nominated, Embrace of the Serpent. Michael has also Executive Produced over 30 feature films including the Sundance Film Festival hit, Turbo Kid and SXSW hit PG: Psycho Goreman.
PASHA PATRIKI
CEO, 9 Light Film Capital / Partner, Hangar 18
Since 2016, Pasha has produced numerous Canadian films in budget range from $2 mil to $10 mil, most recent being The Breach, starring Allan Hawco (Republic Of Doyle) and Executive Produced by legendary musician Slash (who is also the composer on the film). Pasha has also served as Canadian Service Producer for a number of international production and co-productions, most notably the recent "V/H/S 94" sequel of the smash hit V/H/S franchise.
AVI FEDERGREEN
President, IndieCan/Red Water Entertainment
Avi Federgreen brings to Indiecan Entertainment his vast experience in producing content, knowing the challenges filmmakers face in sharing their films while they navigate the often murky, opaque waters of worldwide distribution. With a focus on collaboration and transparency that starts from the early days of development, Federgreen knows exactly what filmmakers need to feel confident in their distribution strategy …because he is one.
ANDREA SUBISATTI
Andrea Subisatti is an award-winning writer, podcaster and content creator. She has been published in The Undead and Theology (2012), The Canadian Horror Film: Terror of the Soul (2015) Yuletide Terror: Christmas Horror on Film and Television (2017) and Scared Sacred: Idolatry, Religion and Worship in the Horror Film (2020). Andrea joined the staff of Rue Morgue magazine in 2014 and became Executive Editor in 2017. In addition to writing, she is co-host and producer of the award-winning Faculty of Horror Podcast with Alexandra West. She hosts Rue Morgue TV and has appeared in the horror documentary Why Horror? (2014),
PANEL TIME: 4:30PM
Visit us at Theatre Hill for food & drinks