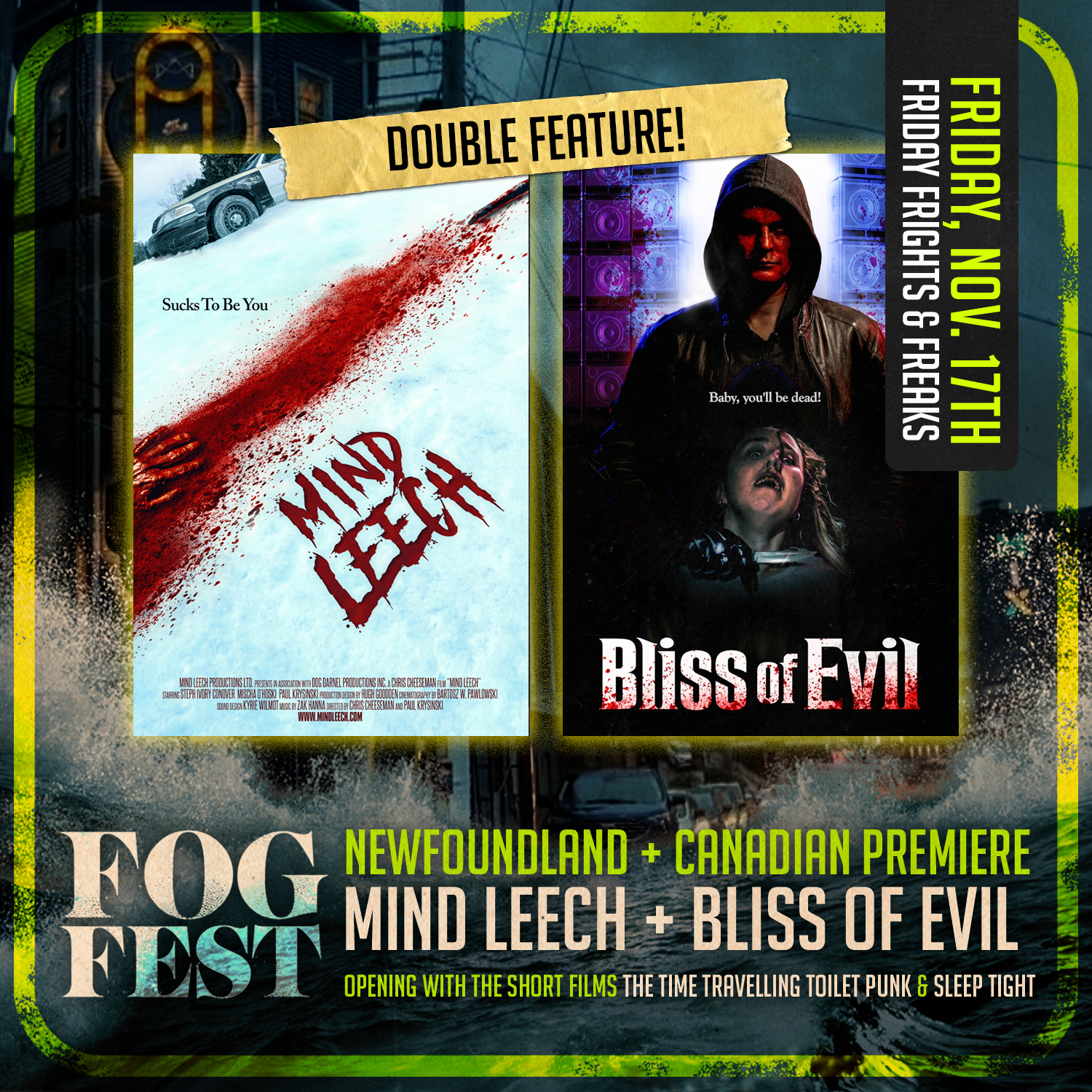 MIND LEECH + BLISS OF EVIL (Double Feature)
Date
Fri November 17, 2023
Show Time
THIS EVENT HAS EXPIRED
Friday the 17th! Slashers and slime kick off our second day of the fest with a double feature afternoon! Featuring the Atlantic Canadian Premiere of MIND LEECH (CA) and the Canadian Premiere of BLISS OF EVIL (AU) starting at 2:30PM!
MIND LEECH
A very persuasive Leech is wreaking havoc in rural Provinstate, 1998. On a mission to expand its horizons, our influential invertebrate enlists the help of the local townsfolk. The Police are soon on the tail of our pesky parasite.
Directors: Chris Cheeseman, Paul Krysinski
Writer: Chris Cheeseman
Producer: Chris Cheeseman
Running Time: 1hr
Canada
English
Opening with the short film THE TIME TRAVELLING TOILET PUNK  
A surly Punk gets drugged and goes on a strange adventure. Was it the drugs? Or did she really travel through time?
Director: Nadine L'Esperance
Writer: Nadine L'Esperance
Producer: Nadine L'Esperance, Trevor Spud Hagen
Running Time: 9 mins
Canada
English
BLISS OF EVIL
A sound engineer is forced to confront her trauma when she and her girlfriend's grunge band are trapped in a recording studio by a shadowy killer.
Director: Joshua Morris
Writer: Joshua Morris
Producer: Lauren Shaw, Corrie Hinschen, Josh Morris, Damian Hussey
Running Time: 1hr 25mins
Australia
English
Opening with the short film SLEEP TIGHT 
A young boy struggles to navigate everyday life as his parents battle through their divorce and he faces the trauma caused by his sleep paralysis demon.
Director: Lisa Ovies
Writer: Shane Thompson
Producer: Lisa Ovies, Shanna Mair, Jaala Wanless
Running Time: 9mins
Canada
English
Visit us at Theatre Hill for food & drinks