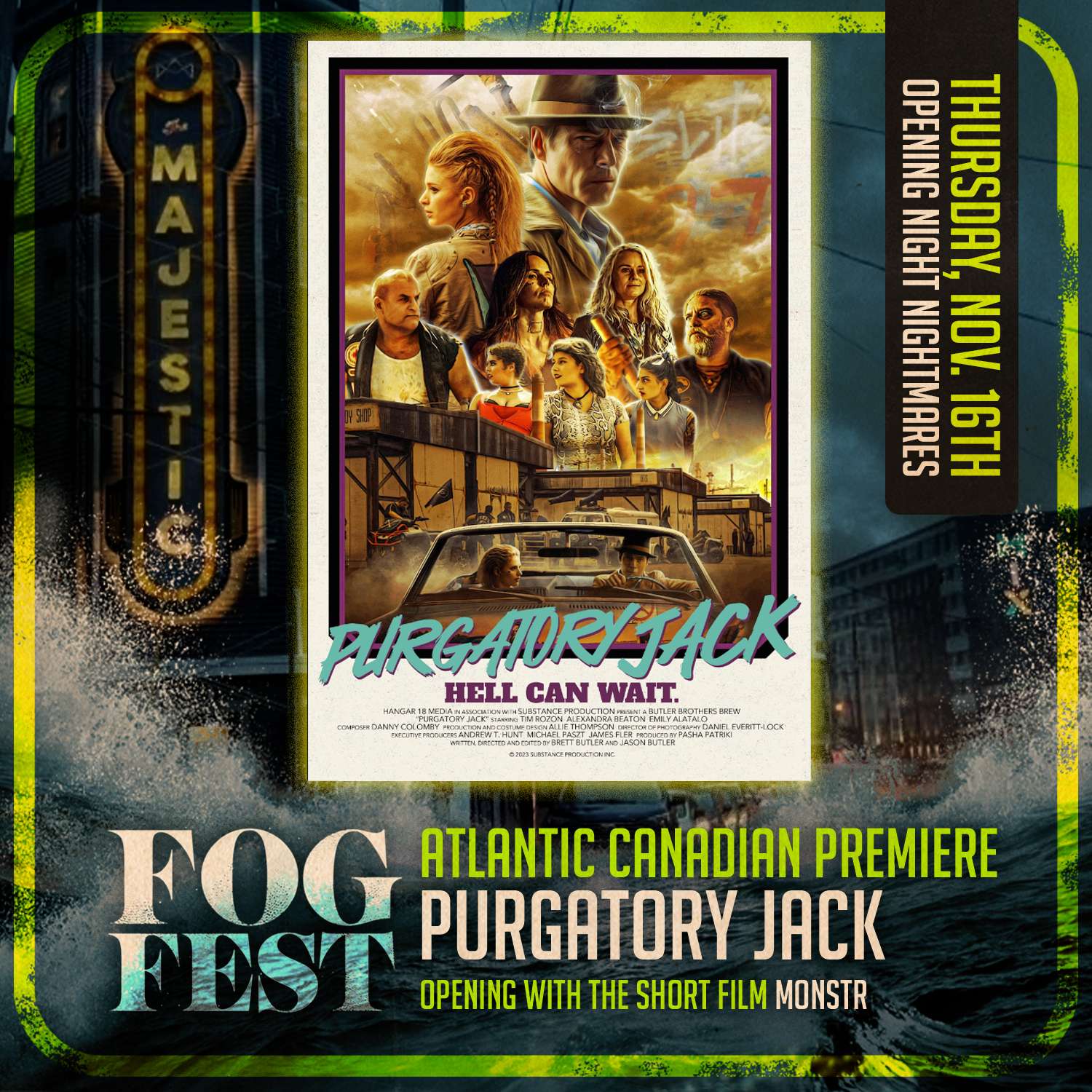 PURGATORY JACK (Atlantic Canadian Premiere) + MONSTR (Short)
Date
Thu November 16, 2023
Show Time
THIS EVENT HAS EXPIRED
A tidal wave of terror reaches the shores of Newfoundland! Join us for our first opening night feature - the Atlantic Canadian Premiere of PURGATORY JACK, with the short film MONSTR
PURGATORY JACK
Purgatory Jack is a neo-noir mystery thriller set against the backdrop of Purgatory, a dangerous and destitute landscape run by outlaws and outcasts. Former musician turned grizzled private detective, Jack Marlin, has a new case and it's helping new arrival Viv Vacious, a punk pop star who overdosed, find her mother who committed suicide twenty years earlier. By outwitting the outlaws, these two musicians from clashing eras will unlock a murderous conspiracy and discover why blood is more than a drug. Starring Tim Rozen and featuring Joel Thomas Hynes.
Director: The Butler Bros.
Writer: Brett Butler, Jason Butler
Producer: Brett Butler, Jason Butler, James Fler, Andrew Thomas Hunt, Michael Paszt, Pasha Patriki
Running Time: 1hr 40mins
Canada
English
Opening with the short film MONSTR 
How do you go on living when everything is taken from you in the blink of an eye? A young artist confronts his inner demons while apprenticing with a northwest totem carver after the death of his beloved.
Director: Tank Standing Buffalo
Writer: Tank Standing Buffalo, Xstine Cook
Producer: Xstine Cook, Amanda Miller
Running Time: 6mins
Canada
English
Visit us at Theatre Hill for food & drinks